Cosmetic treatment including bleaching of teeth
Your face is the most looked-at-part of your body. And your mouth is the first feature that everyone looks at! Dramatically enhancing your smile can instantly lift your self-confidence and you can even ger transformative results over your lunch break.
These two tried and tested procedures will let you see a new you in no time and without invasive surgery…
Whitening – We can design and supervise whitening that may lighten your teeth by up to eight shades! Safe, reliable, and predictable teeth whitening technology may even remove stains cause by illness or medication.
White Bonding –
 We can cover the deepest stains by bonding material directly onto your teeth and we can use it to replace older stained or silver fillings!
Choose one techique or two… it's up to you!
A jolt of morning java might boost your day, but over time it could take supervised teeth whitening to jump-start your smile again! Red wine, tobacco, dark fruits and juices, and some medicine can also trigger staining.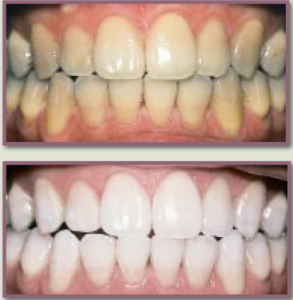 Whitening is the most in-demand cosmetic procedure ...
 Although we recommend teens wait till after age 14, there is no upper age limit. If thinning tooth enamel is a consideration, cosmetic bonding and veneers are excellent whitening alternatives.
Your dental team - That's us!
We make absolutely certain that the whitening ingredients we prescribe for you are safe, reliable, and appropriate. Stains caused by illness or medications can only be removed by a dentist.
Teeth may be whitened up to an average of eight shades lighter than the color you start with.
Ambleside Dental
Dr Zohreh Ansari & Dr Majid Sherkat
105 - 585 16th St, West Vancouver, BC V7V 3R8